North America Overland restores Series IIa and III Land Rovers.
A North America Overland restoration will return the Land Rover to how it looked and drove when originally manufactured but with modern upgrades for safety and reliability. To get started, we will first need a restoration candidate. You can choose a Land Rover from our unrestored inventory. These Land Rovers have already been deemed satisfactory for a full restoration, simply choose a color and options and we will begin your restoration as soon as the next time slot is available. Or, you may already own a Land Rover that you would like restored. If this is the case then we will need to do an evaluation on it to determine its condition and suitability for restoration. If the key components on the vehicle are not in good shape we may recommend sourcing a different vehicle or the restoration. Next we will create a spec sheet, a detailed list of what will go into building your Land Rover as well as the cost of the project. If you are happy with the spec sheet then a deposit will be requested and the project agreement signed. A restoration takes one year to complete, we will divide up the project cost into 12 monthly payments and invoice you at the end of every month. Invoices can be paid by credit card, direct deposit or a check. The project starts with a complete tear down of the vehicle. The body panels will be fully disassembled. Every rivet, nut, bolt and screw will be removed. Each panel will be stripped to bare aluminum. Steel parts like the firewall will be sandblasted, any rust cut out and new steel panels welded in. The original body panels and the new replacement body panels will now be repainted. As a rule we paint both sides of every panel to help with corrosion resistance.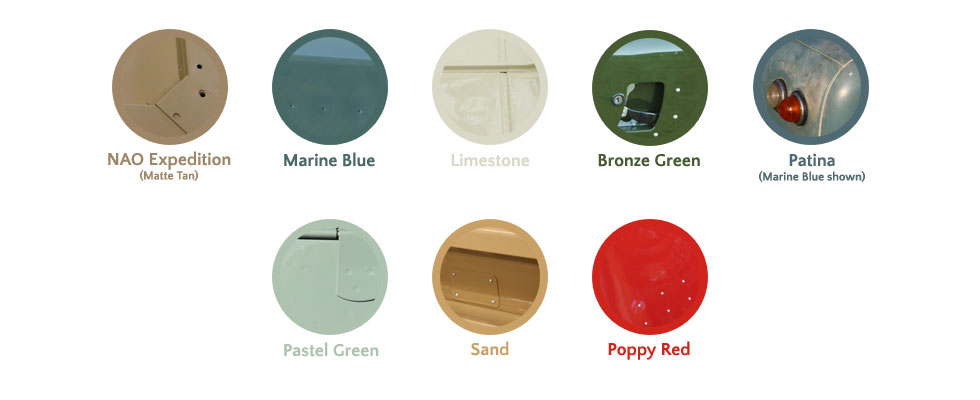 Select from an array of official colors or choose your own
While the body panels are being prepped and painted, we will also restore the drivetrain. The boxed design of the Land Rover's frame is very strong but also susceptible to rust when road salt and mud gets trapped inside. Most original frames have some degree of hidden rust or stress cracks so we typically replace the frame with a new galvanized one for future rust resistance. The differentials are rebuilt and the axle housings are sandblasted and repainted. The front drum brakes are converted to modern disc brakes. The brake system is converted to dual master cylinder power brakes. The axles are installed with new parabolic springs and high quality shocks. These springs ride much smoother than the stiff original springs that were designed for carrying heavy loads. A new original-type cloth covered wiring harness is run through the frame and a new fuel tank is installed. The wheels are sand blasted and painted and new all-terrain tires are mounted.
The engine is fully rebuilt to our specifications with a 2.5 liter cam and hardened valve seats to allow the use of unleaded gas. Components like the clutch, clutch hydraulics, alternator and water pump are replaced with new parts. The transmission and transfer case are rebuilt as well. We use fully synchronized Series III transmissions so you will no longer need to double clutch when shifting. Once the drivetrain is assembled it is installed in the chassis on new rubber mounts and then the exhaust system and new driveshafts are connected.
Once the body panels have been painted they will be reassembled. The steel parts that make contact with the aluminum panels are galvanized to prevent galvanic corrosion (the steel is now isolated from the aluminum with a coating of zinc). Any exterior parts that came from the factory with a galvanized finish are also re-galvanized. The body cappings are fastened to the freshly painted body panels using the correct rivets. All fasteners are also replaced with ones very similar to the originals. Every single nut, bolt, washer or rivet is replaced during the restoration. Door tops are especially prone to rust so new units are used. New glass is installed in the re-galvanized windshield frame. These body sub-assemblies are then installed on the chassis. All new door weatherstripping is installed and the door alignment is fine tuned.
The interior is meticulously restored to like-new condition. All gauges, switches and vent flap levers are carefully refurbished. All body panels are painted to the same standards as the exterior because this is what you see inside the Land Rover as there is almost no interior trim.
It is now time to turn the key and fire up the engine. Hearing the rebuilt engine come to life is always exciting! Before taking it out for its first test drive, we will thoroughly inspect your Land Rover following our pre-test drive check list. Once the initial test drive is complete we will put 100 hundred break-in miles on the engine. Your newly restored Land Rover is ready for its new home, where it will provide decades of faithful service and help make wonderful memories that will last a lifetime.